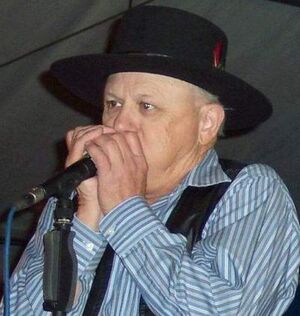 Charlie McCoy (b. 1941) is a musician known primarily as a harmonica player and a staple of country music. Active as a session musician in addition to his solo work, McCoy performed on the 1981 album Sesame Country, notably contributing the harmonica solo to "The Last Cookie Roundup." He was one of several Nashville musicians used, instead of the usual New York-based Sesame band, to lend the album an authentic "country" sound. The album credits note that McCoy appears courtesy of Monument Records (the primary label he had recorded for since the 1960s).
McCoy also plays the guitar, bass, various percussion instruments (vibraphone, marimba, bells), and keyboards, among others. Known to country music listeners for years, McCoy later became a familiar television face through guest appearances on Hee Haw, finally joining as a full regular from 1976 until 1992 and serving as the music director. He also led the house band on the short-lived NBC series The Nashville Palace (1981). McCoy played harmonica for country music stars Dolly Parton, Johnny Cash, Waylon Jennings, and Willie Nelson, as well as such diverse artists as Elvis Presley, Ringo Starr, Nancy Sinatra,
External links
Community content is available under
CC-BY-SA
unless otherwise noted.