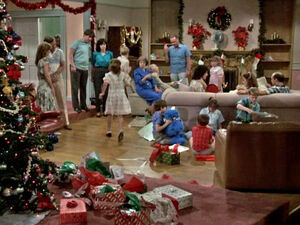 Cheers was a sitcom about a Boston bar, which ran on NBC from 1982 to 1993. The show also launched the successful spin-off Frasier which ran from 1993 until 2004.
In the 1990 TV special Earth Day Special, one segment featured the cast of Cheers discussing environmental concerns in the bar. Kermit the Frog was included in a separate segment.
References
In the 1993 special For Our Children, co-host Baby Sinclair introduces guest performer Woody Harrelson by saying "he works in a bar" (referencing his stint on Cheers as bartender Woody Boyd).
Muppet Mentions
In the 1984 episode "I Call Your Name", Diane describes Sam as "a man whose idea of intellectual stimulation is to count along with Big Bird."
In the 1987 episode "A House Is Not a Home" Sam and Diane are hosting one last Christmas for the Miller family as they have bought their house. One of the kids gets a Cookie Monster plush.
Connections