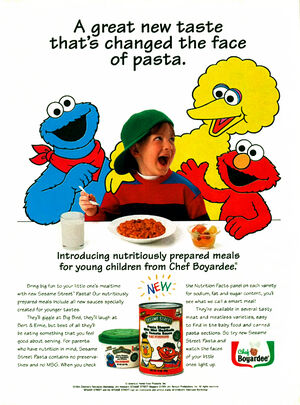 Chef Boyardee is a brand of canned pasta products founded and named after Ettore Boiardi in 1928.
In 1994, Chef Boyardee licensed Sesame Street Pasta shaped like Big Bird, Ernie, Bert, Elmo and Cookie Monster. The line included seven varieties; four canned item choices for preschoolers and three microwavable choices for toddlers.[1]
Sources
↑ Supermarket News - Chef Boyardee to Make Sesame Street Pasta, May 16, 1994.