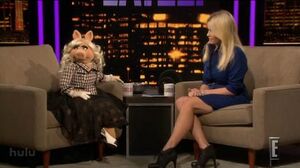 Chelsea Lately is a late night talk show on E! which debuted in 2007 and is hosted by Chelsea Handler, who is known for her bawdy humor and interviews.
Miss Piggy appeared on the show on November 21, 2011 to promote The Muppets where she dodged questions from the host about her sex life.
Miss Piggy, knowing where Handler's line of questions were going, asked, "What's the question?" to which Handler replied, "The question is, has there been penetration?" Piggy tactfully changed the subject with a pun on an Italian dish made with vodka, penne pasta, heavy cream, crushed tomatoes, onion, and sometimes sausage or bacon. "I like to call it 'penne alla vodka', we're so busy, there's not even focaccia bread."
Handler then continued on to another sensitive subject. "Would you describe your body as plus-sized?" she asked Piggy, to which she replied, "If by 'plus' you mean I have an extra fabulous, gorgeous, give-me-some-of-that figure, then yes. If you mean 'fat,' then no."
Piggy mentioned Chelsea Lately while introducing Handler as her guest in The Muppets episode "Too Hot to Handler".
External links
Community content is available under
CC-BY-SA
unless otherwise noted.