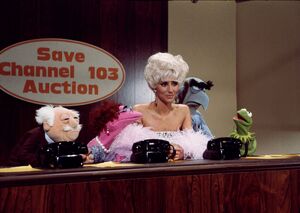 Cher was a television variety series hosted by Cher in the wake of the popular Sonny and Cher Comedy Hour.
Appearances
The Muppets appeared in the September 7, 1975 season premiere, featuring the Smothers Brothers and Bill Cosby. Highlights included:
They appeared again on November 16, 1975.[1]
The November 16th episode was released on Time-Life's The Best of Cher DVD collection in 2020.
Mentions
For the September 28, 1975 program (dedicated to children), Cher opens the show with a cover of the "Sesame Street Theme."
Connections
Sources
External links