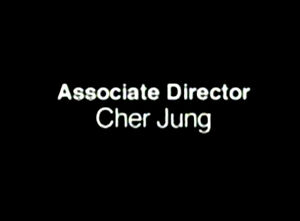 Cher Jung (also credited as Cheryl Ann Jung) held many roles on Sesame Street between seasons 10 through 32.
Starting in season 10, she was credited as a production secretary, and by Season 11, she began working as a production assistant for the show (and various home video productions) through season 24. During season 21, she was credited as an associate director while also becoming the curriculum coordinator from season 25 to season 32.
Jung was additionally credited for Don't Eat the Pictures (assistant to the producers), Big Bird in Japan (associate producer), The Best of Elmo (associate director and stage manager), Fiesta! (associate director), Big Bird Gets Lost (associate director) and Language to Literacy (associate director).