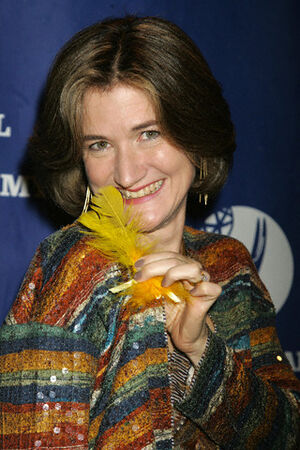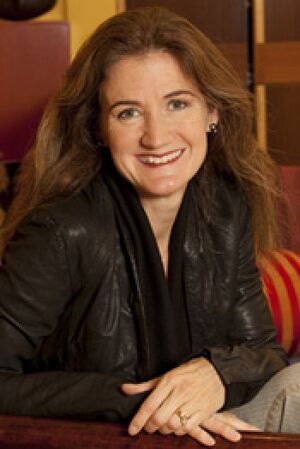 Cheryl Lee Henson (b. August 7, 1961)[1] is the President of the Jim Henson Foundation and a member of the Board of Directors for The Jim Henson Company, as well as the company's director for New York-based operations. She is the second child of Jim and Jane Henson.
Henson is greatly involved as an advocate for puppet theater, acting as executive producer for the Henson International Festival of Puppet Theater, which was held annually from 1992 to 2000. During this same time span, she also served as Vice President of The Jim Henson Company; her role as such was as liaison between the company and the Children's Television Workshop regarding the United States and global productions of Sesame Street.
As a teenager, Henson began her puppet-building career working on The Muppet Show and The Dark Crystal; in a 2006 interview with Smithsonian magazine regarding the American History Museum's Muppets exhibit, she mentioned that some of her first Muppet creations were a singing artichoke, asparagus, and a grapefruit. A separate television interview given the same year also mentioned her hand in creating Muppet lobsters for a Swedish Chef skit. She appeared briefly in the behind-the-scenes documentaries Of Muppets and Men and The World of the Dark Crystal.
Her involvement in Muppet productions continued after her graduation from Yale in 1984 on projects such as Labyrinth and The Tale of the Bunny Picnic. She later became involved with the work of the Creature Shop for The StoryTeller and Mother Goose Stories following her attainment of a degree from the Fashion Institute of Technology in textile design.
Henson's work with the Muppets has also extended outside of puppet building; she served as Art Director for the Emmy-nominated The Jim Henson Hour segment The Song of the Cloud Forest, and in 1994, she worked with the Muppet Workshop on the book The Muppets Make Puppets!, which offered children ideas and instructions for creating puppets out of household objects. She was also one of the people interviewed for the documentary Behind the Scenes in Frogtown Hollow, which appeared on the 2005 DVD release of Emmet Otter's Jug-Band Christmas. She was the narrator for the video game, The Muppets Movie Adventures.
Henson was awarded the New Victory Arts Award at the New 42nd Street Gala on October 17, 2011.
Henson currently resides in New York City.
Puppeteer credits
Sources
External links