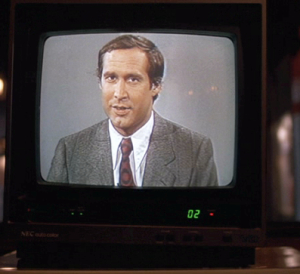 Chevy Chase (b. 1943) is a comic actor and one of the early stars of Saturday Night Live, whose sketch roles included anchoring "Weekend Update."
When the Muppets missed a scheduled appearance during the first season of the show, he stood in and performed a sketch with his bare hands as puppets on the "Land of Gorch" set. Otherwise, he interacted with the Muppets on a few occasions, such as telling them that their scheduled act was canceled in the show hosted by Raquel Welch, and being told by The Mighty Favog that if the Muppets stay on the show, they can get The Beatles to appear for free. Chase also wrote at least one "Land of Gorch" segment in which the characters "were coming out of boxes."[1]
He later appeared in Follow That Bird as a newscaster who reported on Big Bird's journey and mispronounced the name of Sesame Street.
He starred in the movie Spies Like Us where he shared a scene and some dialogue with Frank Oz. His other roles include playing Clark Griswold in the Vacation franchise, Caddyshack, Fletch and Fletch Lives, Memoirs of an Invisible Man (with Daryl Hannah), Three Amigos (with Steve Martin and Martin Short), and the first five seasons of Community as Pierce Hawthorne.
References
When Baby Fozzie uses the line "Good evening, I'm Fozzie Bear and you're not!" in the Muppet Babies episode "A Punch Line to the Tummy," his lack of audience response causes confusion, as it always used to work for Chevy Chase on "Weekend Update."
Sources
External links