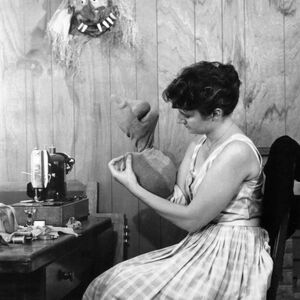 Chicken Liver is a character from Sam and Friends. He is an abstract humanoid character with a tall head and a big nose. A feature in the August 15, 1959 edition of The Northern Virginia Sun, in which the Hensons were in the midst of creating a new Muppet, refers to the character as Theodore (the same article calls Harry the Hipster, "Arry").[1]
According to Jim Henson's Designs and Doodles, Chicken Liver "was a dramatic storyteller who believed that Sam and Friends lacked culture (much like Sam the Eagle from The Muppet Show). He promised to enrich the show with classical literature, including such epic stories as The Three Little Pigs."
Chicken Liver's appearances include the Sam and Friends segments "Powder-Burn," "The Westerners," and "Poison to Poison." He also appeared on The Today Show on April 10, 1961 lipsynching to "Yes! We Have No Bananas" with Kermit.
Jane Henson said at MuppetFest that Chicken Liver was one of her favorite characters. When Sam and Friends ended, she and Jim kept the puppet in their home, and it had to be significantly repaired before being donated to The Smithsonian Institution.[2]
Sources