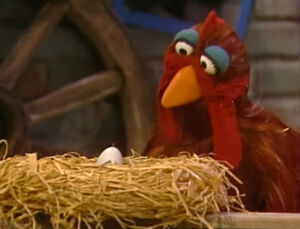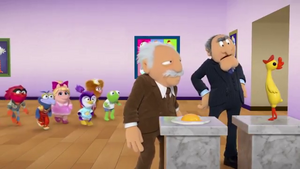 "Which came first - the chicken or the egg?" is a question regarding causality that has been debated for centuries.
References
Spike Milligan grabs a chicken by the neck in The Muppet Show episode 317, and furiously asks it, "Now, who came first?! Answer!"
In Episode 2887 of Sesame Street, an eggplant jokes with Telly Monster, asking him which came first - the chicken or the eggplant?
In Episode 2966 of Sesame Street, Telly receives a call from a fellow Triangle Lover asking an important question: which came first - the chicken or the triangle? "Nobody knows the answer to that one," Telly answers.
Donna Erickson asks the question to the Swedish Chef in an episode of Donna's Day. He can't make up his mind, so he hosts a race around the kitchen between a chicken and an egg, where the egg comes in last.
A chicken visits Gina's new veterinarian clinic in episode 3918 of Sesame Street, having gotten a headache pondering this question.
Big Bird reads a book entitled "Which Came First?" in a Sesame Street episode.[1]
Sources