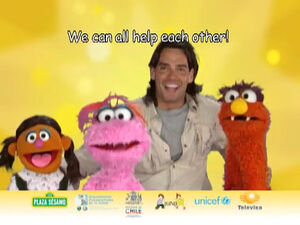 A series of Chile PSAs were produced in 2010 starring the Muppets of Plaza Sésamo, and celebrity Cristián de la Fuente.
The shorts were a response to the 2010 Chile earthwuake and meant to help teach kids about the aftermath of earthquakes and the feelings they give kids.
Spots
Christian, Gaby and a Multimonstruo help Lola deal with the collapsing of her school after an earthquake.
Lola tells Abelardo it's okay to feeling afraid of earthquakes.
Lola reminds us to know your name in an emergency.
Cristian tells Lola how to plan for emergencies.