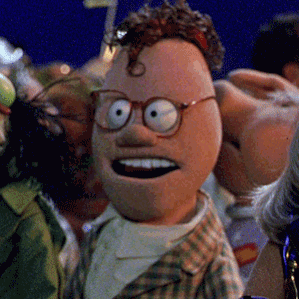 Chip is a nerdy technician who worked for Gorilla Television, the pirate broadcasting operation on The Jim Henson Hour. The Gorilla crew despised popular television entertainment, including that of the Muppets, so they tried to seize control of the show and broadcast their own material instead. Chip's Gorilla Television cohorts were Zondra and Ubu.
Chip had an egg-shaped head, a protruding set of upper teeth and large eyes with shutter-style blinking pupils. He wears red-framed spectacles and a plaid jacket, often with an "ALF for President" button on the lapel, referencing NBC's other prime-time puppet show of the time.
In addition to The Jim Henson Hour, Chip appeared in the background in Muppets Tonight, Muppets from Space, It's a Very Merry Muppet Christmas Movie, and The Muppets' Wizard of Oz.
The original sketch for Chip came from Michael Frith. He is a caricature of Muppet writer (and Frith colleague) Bill Prady, a nod to Prady's earlier career as a computer programmer.[1]
See also
Sources
Community content is available under
CC-BY-SA
unless otherwise noted.