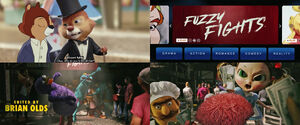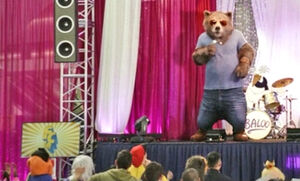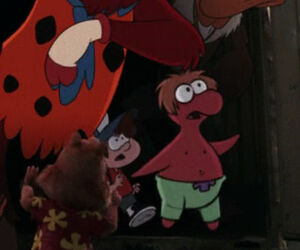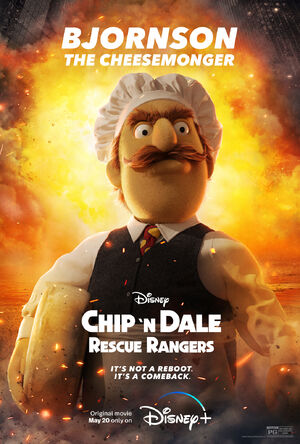 Chip 'n Dale: Rescue Rangers is a 2022 Disney+ original film based on the 1989 animated series of the same name.
Mentions
The character of Bjornson the Cheesemonger is a parody of the Swedish Chef. Aside from his appearance and nationality, he's animated to mimic the movements of a real world puppet (a fact that characters are aware of, as evidenced by Dale calling him a felted clodhopper). Bjornson speaks in understandable English, but after he drops Chip and Dale off at Sweet Pete's hideout, he exits the scene singing in mock Swedish. He was also featured in his own character poster promoting the film.
On Main Street, Chip points out the various toons and what shady dealings they each perpetrate. He cites that a CGI little girl is responsible for hosting "Muppet fights." During the end credits, some slo-motion scenes of the resulting "Fuzzy Fights" are seen, where a blue monster appears punching out a purple Big Bird-esque character while a monster resembling Elmo accepts bets.
Attendees of the FanCon event that Dale works at are (as with most pop culture conventions) seen wearing a number of costumes from various franchises including Wonder Woman, Jack Sparrow, and others. One individual in the audience during Baloo's performance can be seen wearing an Ernie costume.
A story reel by Simeon Wilkins for an early version of the FanCon sequence with Jar Jar Binks in place of Ugly Sonic features a Skeksis at one of the guest booths.[1]
Connections
Sources