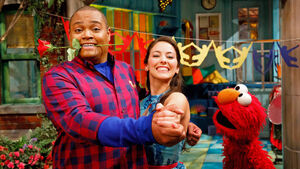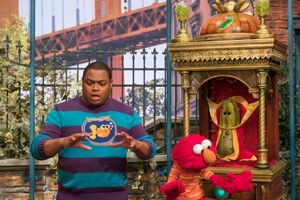 Chris Robinson is the nephew of Gordon and Susan on Sesame Street. He first appeared in Season 38 and has remained as one of the principal human residents.
Chris moves to Sesame Street in Episode 4136 and seeks a job to buy textbooks for school. He answers newspaper ads from Count von Count, Cookie Monster, and Horatio the Elephant, but none of the jobs they offer work out for him. Just as Chris is about to give up for the day, he sees Alan put a "Help Wanted" sign outside the window of Hooper's Store, and is hired as Alan's newest assistant.
Whether or not he's managing Hooper's, Chris can sometimes find himself on the unfavorable end of the Muppet characters' hijinks. In Episode 4215, Chris takes the brunt of the chaos caused by a chicken volleyball team who panic and mess up the store during a thunderstorm. Through Abby Cadabby's error-prone magic, he has accidentally been turned into a horse (Episode 4238) and transported to a frozen wasteland (Episode 5001).
As early as Season 45, Chris has often worn polo shirts with embroidered designs of objects or animals. This fashion choice plays into the plot of the television special When You Wish Upon a Pickle, where Chris's giraffe shirt is swapped with Elmo's sweater of Dorothy when they switch bodies.
Chris shares the same birthday as his actor, February 25, according to the "Ask Elmo" interview on Sesame Street's YouTube channel. He also has a fraternal twin sister named Christy.
Notes
As seen in Episode 5203, Chris lives in a second floor apartment above Hooper's Store. In previous seasons, Bob was also shown residing above the store.
Appearances
Book appearances