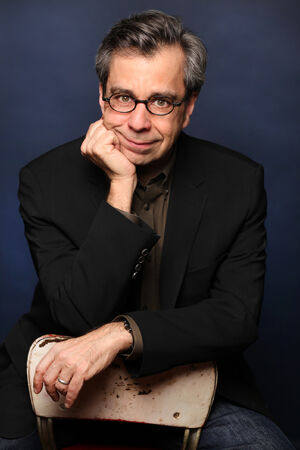 Chris Grabenstein is an American children's book author, as well as an adult novelist. He is the recipient of several Agatha Awards in the Best Children/Young Adult Fiction category.
For the Muppets, Grabenstein wrote for Little Muppet Monsters and the Dial-a-Muppet telephone service in the 1980s.
In a 2006 blog interview, Grabenstein spoke of his time writing for the Muppets:
"

Gosh, that was soooo long ago. I wrote for Dial A Muppet back in the "Call 976-whatever" days. Kids would call up and talk to their favorite fuzzy friend. I remember having fun with Fozzie Bear, he of the corny jokes. I then wrote on a short-lived show "The Little Muppet Monsters," which ran on CBS. They were the creatures that lived in the basement of the Muppet House and put on a show for the "grownups" upstairs. It was incredibly amazing to work for Jim Henson. They knew they were helping shape very impressionable little minds and were diligently concerned with the messages they conveyed. It was a great early lesson about the awesome responsibility that comes with mass communication. I still try to make sure my books say something worth being said, something that sticks with you a few days after you finish the final chapter.[1]

"
Sources
↑ Mysterious Musings "Chris Grabenstein's Topsy Turvy Year" by Julia Buckley, September 05, 2006
External links
Community content is available under
CC-BY-SA
unless otherwise noted.