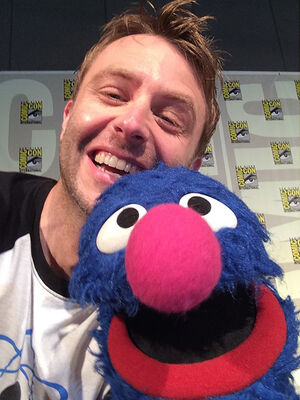 Chris Hardwick (b. 1971) is an American stand-up comedian, actor, television host, writer, producer, and podcaster. He is known for performing with Mike Phirman (as comedy-music duo Hard 'n Phirm), and hosting several series including @midnight and The Nerdist Podcast. As a voice-artist, Hardwick starred on the Nickelodeon series Back at the Barnyard and Sanjay and Craig.
Hardwick's interviewees on The Nerdist Podcast have included The Muppets, Paul Williams and Red Fraggle; the latter appeared to talk about the Ben Folds Five music video for "Do It Anyway," which featured appearances by Hardwick and the characters of Fraggle Rock. He also appeared in the Hard 'n Phirm music video for "Gersberms (Yer Gervin Mah)" featuring The Swedish Chef.
Hardwick moderated a panel at San Diego Comic-Con in 2014 with the cast and Muppets from Sesame Street. In 2016, Fozzie Bear appeared as a contestant on @midnight. Hardwick also hosted a 2018 Puppets for Puppetry event honoring Caroll Spinney.
External links