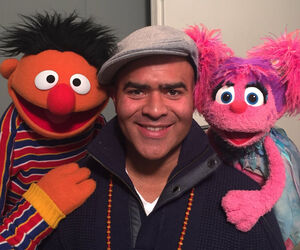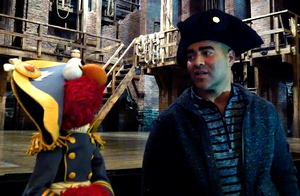 Chris Jackson (b. September 30, 1975) is a composer and Broadway performer who has composed songs for Sesame Street (beginning in Season 41) and resource videos. He also provided the voice for the Justin Bieber Muppet in the song "Measure, Yeah, Measure."
In Sesame related credits, Jackson sang the original song "Puppet Man" (written by Mark Radice) in the documentary Being Elmo: A Puppeteer's Journey and composed music for the revival of The Electric Company.
As a performer, Jackson has appeared on Broadway in The Lion King (understudying Simba), In the Heights, and Hamilton (both with Lin-Manuel Miranda) while TV credits include episodes of White Collar and Nurse Jackie. His wife, Veronica Vazquez-Jackson, voiced the Mercedes Muppet in the Glee parody from season 42.
In 2016, Elmo appeared alongside Jackson in a viral video from the set of the musical, Hamilton. (YouTube) Later that year, he appeared on the Sesame Street float in the Macy's Thanksgiving Day Parade to sing "Try a Little Kindness" with the cast. The recording session was made into a music video featuring Jackson and the Muppets, and was released on YouTube in February 2017. (YouTube) A brief interview between Jackson and Prairie Dawn was recorded at the parade by Stephanie D'Abruzzo for a 2016 edition of Below the Frame.
In 2017, Jackson narrated the interactive ebook version of Celebrate You! Celebrate Me!
Song credits
External links