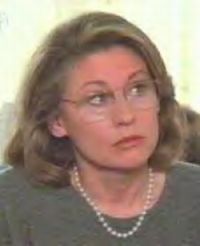 Christina Hoeltel, also known as Tina Hoeltel or Tina Höltl, is a German voice actress who dubbed the speaking voice of Scooter on Die Muppet Show and filled occasional bit parts (such as the Whatnot panelist in episode 110). She reprised the role of Scooter in the German dubs of nearly every subsequent movie and special, with the notable exceptions of Muppets from Space and Das Grösste Muppet-Weihnachtsspektakel aller Zeiten.
Voicing Scooter again in Die Muppets, she is one of only three remaining voice artists to reprise their Muppet Show roles that they originated; the other two being Michael Rüth as Rowlf and Donald Arthur as Beauregard (and Uncle Deadly).
Hoeltel has also dubbed Rene Russo in the Lethal Weapon movies and The Adventures of Rocky and Bullwinkle, Jessica Lange in Tootsie, Alison Doody in A View to a Kill, Imelda Staunton in Harry Potter and the Order of the Phoenix, and Candice Bergen on Murphy Brown. Animation dub credits include Asterix vs. Caesar (Falbala), The Secret of NIMH (Mrs. Brisby), The Simpsons (minor roles), and Family Guy (newscaster Diane Simmons, Liza Minnelli, and others). On-camera, she appeared in the mini-series Goldene Zeiten.
Community content is available under
CC-BY-SA
unless otherwise noted.