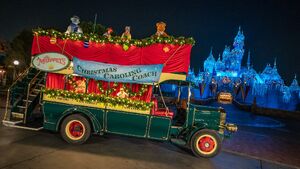 The Christmas Caroling Coach is a redress of Disneyland's double-decker Main Street Omnibus for the 2021 holiday season. The attraction is not open to general admission, but a feature of the "Disney Merriest Nights" after-hours ticketed event.
The coach drives down the park's Main Street with several members of the Muppets singing Christmas Carols and exchanging pre-recorded, scripted banter to live performances similar to the style previously seen in Great Moments in American History (now wearing holiday attire).
Kermit the Frog, Miss Piggy, Fozzie Bear, Gonzo, Sam the Eagle, Pepe the King Prawn, four chickens (including Camilla), Dr. Bunsen Honeydew, Beaker, Statler and Waldorf (the latter four in audio-only form) feature in the 9-minute show that runs four times per night beginning in November 2021. The show features performances of "Here We Come A-Caroling," "Deck the Halls," "Feliz Navidad," "Let It Snow! Let It Snow! Let It Snow!," and "We Wish You a Merry Christmas."
Credits
The voices of:
Sources