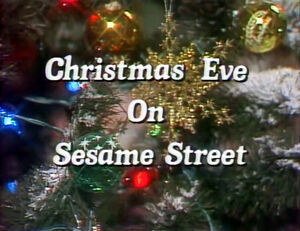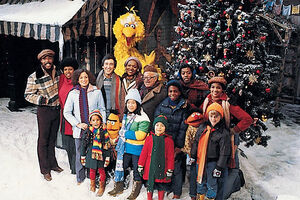 Christmas Eve on Sesame Street is an hour-long, Emmy Award-winning Sesame Street Christmas special that first aired on PBS on December 3, 1978, at 7pm.
Oscar the Grouch raises doubts about whether Santa Claus can deliver presents on Christmas Eve if he can't fit through the narrow chimneys on Sesame Street, so Big Bird resolves to figure it out with the help of his friends Patty, Kermit, and Grover. Big Bird falls asleep while waiting on the roof of 123 Sesame Street to see Santa go down the chimney and is rescued by Gordon and Susan. Before his rescue, during the search, Maria confronts Oscar for upsetting Big Bird.
Meanwhile, Cookie Monster tries to communicate with Santa to ask for cookies for Christmas, but on all three attempts he gets so carried away with thinking about what sort of cookies Santa will bring him, that he winds up eating a pencil, typewriter, and telephone. While all this is going on, Ernie and Bert re-enact O. Henry's classic story "The Gift of the Magi" and, with the help of Mr. Hooper, learn a valuable lesson about generosity.
The program features a variety of seasonal tunes, including "True Blue Miracle," "Keep Christmas with You (All Through the Year)," "I Hate Christmas," and "Have Yourself a Merry Little Christmas." The special opens with an ice-skating sequence, combining the Sesame characters from Ice Follies with the Sesame Street humans to create the illusion that the entire cast of the show is enjoying an ice-skating trip. One of the highlights of this section is Big Bird skating with a little girl to José Feliciano's recording of "Feliz Navidad."
Cast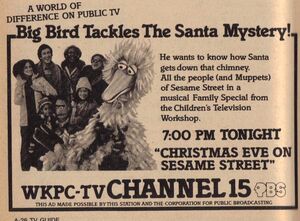 Notes
When Big Bird and Patty check on Oscar following his ice skating accident, his original line was "Sure. I've been thrown out of better places than that." It was later re-dubbed in post-production (to "Let's go back and do it again!"), as the original line was deemed too adult.[2] The line appears in the storybook adaptation, however.
The special was added to the HBO Max streaming library on December 8, 2020. This release omits the use of José Feliciano's "Feliz Navidad", as well as the first half of the end funding credits, featuring sound effects from Cookie Monster.
Credits
Sources
See also