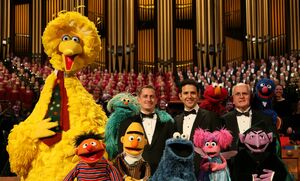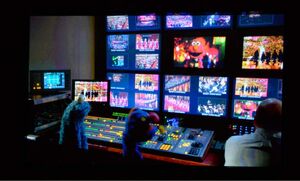 Christmas with the Mormon Tabernacle Choir is a series of annual Mormon Tabernacle Choir Christmas concerts held in the LDS Conference Center auditorium in Salt Lake City during the month of December.
The 2014 concerts, held December 11-14, featured guest appearances by the Sesame Street Muppets, namely Big Bird (Matt Vogel), Cookie Monster (David Rudman), Count von Count (Vogel), Elmo (Ryan Dillon), Grover (Eric Jacobson), Abby Cadabby (Leslie Carrara-Rudolph), Rosita (Carmen Osbahr), Bert (Jacobson) and Ernie (William Barkhurst), along with Santino Fontana (the voice of Hans in Disney's Frozen).
Typically, the concert consists of four shows: a Thursday dress rehearsal, Friday and Saturday shows and a Sunday abbreviated concert after the morning Music and the Spoken Word program.
As is typical, a live album and a home video were released. The concert was broadcast as a television special, trimmed down to an hour, on PBS on December 21, 24 and 25, 2015.
Concert
The Muppets first appear during the choir's "Merry, Merry Christmas!" Big Bird walks out onstage singing along, unaware the show has already begun. The rest of the characters emerge from various sections of the stage and are amazed by the surroundings, instantly wanting to take part in the proceedings. Grover assumes role as director, with assistance from Cookie Monster, who desperately wants some cookies. Abby and Rosita decide to join the choir, Ernie and Bert work backstage and Elmo goes out to find out what else there is to the Christmas season. Big Bird still isn't sure what role he wants and they characters exit as the choir resumes their song.
Throughout the concert, the Muppets appear in pre-taped pieces shown in-between performances, showing Grover and Cookie's control room chaos, backstage preparation and Elmo's live reports from outside the concert hall.
Big Bird is allowed to conduct a piece - a version of the "Sesame Street Theme." Afterwards, Elmo reports live from the stage, where Santino Fontana introduces him to the performers with "The People in Your Neighborhood." Fontana then finds his way to the piano for a special surprise from Ernie: he, Bert and Santino will perform a special song for everyone. Bert is nervous, but their song, "Sing," gives him the courage to perform, as they're joined by Big Bird, Elmo, Abby, Rosita and the kids.
The Count joins organist Richard Elliot for his special arrangement of "The Twelve Days of Christmas." Then, Abby and Rosita find themselves among the choir and help sing "Keep Christmas with You (All Through the Year)."
Cookie Monster has had no luck finding cookies, but Santino, Elmo, Abby and Big Bird convince him there's more to Christmas than cookies by singing "Everyone Who Likes Christmas Say, "I Do!"" Cookie Monster sees their point and when he's finally presented with some cookies, he decides to share them with all his friends.
The Muppets return at the show's end to perform "We Wish You a Merry Christmas."
Sesame Workshop credits
Videos
External links