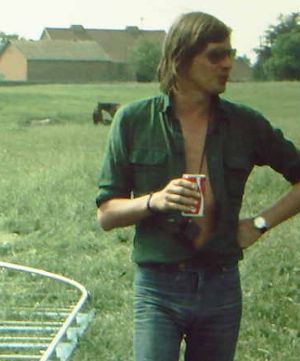 Christoph Busse (b. 1947) is a German composer, songwriter, singer, writer, and director. He contributed live-action film inserts to Sesamstrasse, beginning in the early 1970s, in all of the above capacities. He sang over a series of song films (which he himself wrote), while actors (most often Peter Bauer) demonstrated or mouthed the lyrics.
He directed several recurring film segments, including those featuring Bauer's characters The Tramp, Hans Heinrich, and the duo Herr K. and Doctor Blau (Bauer and Peter Arff). Other recurring segments included "Verkehrswestern" and "Buchstabendetektive." In the nineties, he wrote songs for the story scenes with the Muppets and humans, and co-wrote music and lyrics for Blümchen's pop song "Sesam Jam (Der, Die, Das)"
Busse was a member of the German rock band Os Mundi in the early seventies and wrote the song "Starry Eyes" for Nazareth frontman Dan McCafferty's 1987 solo album. For German TV, he composed songs for Hallo Spencer and the theme for the drama Schwarz Rot Gold (starring Uwe Friedrichsen). Albums have been released of Busse's Sesamstrasse songs, usually with his own vocals. Later, Busse wrote episodes of the animated series Little Amadeus.
External links