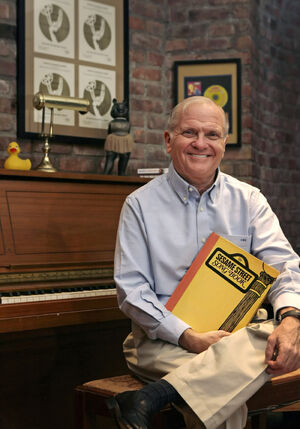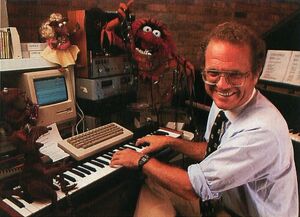 Christopher B. Cerf (born August 19, 1941) originally joined the Children's Television Workshop as the head of Sesame Street's "non-broadcast" products division, which spun off books, records, and toys. However, Cerf's true forte was composing songs for the show, including parodies of contemporary pop hits.[1]
Among his best known works are "Put Down the Duckie" and "Monster in the Mirror," two collaborations with former Sesame Street head writer Norman Stiles. Both songs have been filmed in versions that feature large numbers of celebrities.
Cerf also contributed vocals for many of his songs. He was the voice and namesake of Muppets Little Chrissy, the lead singer of the Alphabeats, and Chrissy, of Little Jerry and the Monotones. Other Muppets Cerf voiced included Bruce Stringbean, Mick Swagger, How Now Brown, the Lead Frazzletone, and the Captain from "Imagine That." Cerf also sang on the Cecille theme song.
Outside of songwriting, Cerf's script credits include co-writing the joint Sesame Street/Electric Company TV special Out to Lunch, and the Sesame direct-to-video compilations Count it Higher, Monster Hits, Sing Yourself Silly, and Rock & Roll. As special consultant to CTW, Cerf helped develop Sesame Place's The Game Centre, which was credited as his "creative brain-child".[2]
Cerf's non-Sesame Muppet work includes development on the software projects Muppet Learning Keys and Muppetville, consulting and composing music for the short-lived series, Little Muppet Monsters, and composing music for the Muppet Time interstitials.
His father, Bennett Cerf, was the co-founder of Random House books and a panelist of What's My Line? and his mother, Phyllis Fraser, co-founded Random House's Beginner Books with Dr. Seuss. His brother, Jonathan Cerf, wrote Big Bird's Red Book.
Cerf is also the co-creator and an Executive Producer of Between the Lions. He was a close personal friend of the late Douglas Adams, acclaimed author of the The Hitchhiker's Guide to the Galaxy trilogy. He wrote the introduction for the US edition of The Salmon of Doubt, a posthumous release of some of Adams' last works.
Cerf has been interviewed in the documentaries Sing! Sesame Street Remembers Joe Raposo and His Music (in tribute to his friend and collaborator), VH1's Greatest TV Moments: Sesame Street Music A-Z, and Street Gang: How We Got to Sesame Street.
Sesame Street song credits
According to his author bio for the book Encyclopedia Paranoiaca (2012, with Henry Beard), Cerf has written over 300 Sesame Street songs.
Sources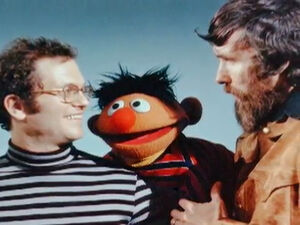 External links