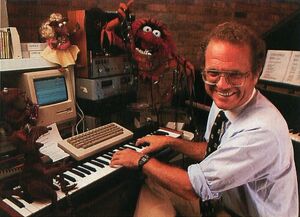 Christopher B. Cerf (born August 19, 1941) brought a mid-century pop music sound to the music of Sesame Street, composing and contributing vocals for songs by Little Jerry and the Monotones, Little Chrissy and the Alphabeats, and other short-lived pop-star parodies. Among his best known works are "Put Down the Duckie" and "Monster in the Mirror," two collaborations with former Sesame Street head writer Norman Stiles. Both songs have been filmed in versions that feature large numbers of celebrities. He appears in the television documentary Sing! Sesame Street Remembers Joe Raposo and His Music in tribute to his friend and collaborator. Cerf also composed songs for the short-lived series, Little Muppet Monsters.
His father, Bennett Cerf, was the co-founder of Random House books and a panelist of What's My Line? and his mother, Phyllis Fraser, co-founded Random House's Beginner Books with Dr. Seuss. His brother, Jonathan Cerf, wrote Big Bird's Red Book.
Some characters that Cerf has provided voices for include Little Chrissy (who was based on Cerf), Chrissy (of Little Jerry and the Monotones), Bruce Stringbean, Mick Swagger, How Now Brown, the Lead Frazzletone, and the Captain from "Imagine That!". Cerf's voice can also be heard on the Cecille theme song.
Sesame Place's The Game Centre was "the creative brain-child of Cerf.[1]
Christopher Cerf is also the co-creator and an Executive Producer of Between the Lions. He was a close personal friend of the late Douglas Adams, acclaimed author of the The Hitchhiker's Guide to the Galaxy trilogy. He wrote the introduction for the US edition of The Salmon of Doubt, a posthumous release of some of Adams' last works.
Composer credits
According to his bio in Encyclopedia Paranoiaca (2012, with Henry Beard), Cerf has written over 300 Sesame Street songs.
Writing credits
Sources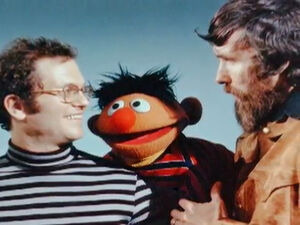 ↑ "Correction: Ahl's only part of Sesame Place", InfoWorld, October 31, 1979.
External links
Community content is available under
CC-BY-SA
unless otherwise noted.