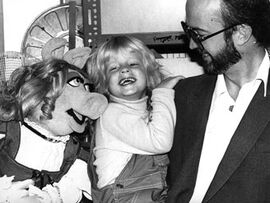 Christopher Finch (1939-2022) was an artist and author who has written many books about popular culture, including three books about Jim Henson's work.
Finch studied painting in London and Paris, and began his writing career with essays about contemporary art for magazines and gallery catalogues. His early essays were collected in two books: Pop Art: Object and Image (1968) and Image as Language (1969). Finch moved to the United States in 1968, and continued to write articles for art magazines.[1]
In 1973, Finch wrote his first book about pop culture, The Art of Walt Disney. The book was based on hundreds of interviews with people who worked with Disney, and featured more than 800 illustrations. The book was a huge success, selling over half a million copies, and was expanded in two subsequent editions in 1995 and 2004.[2]
This was followed in 1975 with Rainbow: The Stormy Life of Judy Garland and Norman Rockwell's America. Finch wrote another book about Disney in 1978, Walt Disney's America. In 1979, He wrote a second Rockwell book, Norman Rockwell: 332 Magazine Covers, and a book on Hollywood's Golden Age, Gone Hollywood.
In 1981, Finch published Of Muppets and Men, a definitive book about the making of The Muppet Show based on dozens of interviews with the cast and crew, and backstage visits during the production of the fifth season. This book serves as the definitive record of the making of the show.
Finch followed this with another Henson book, The Making of the Dark Crystal, in 1983. Following Henson's death in 1990, Finch wrote a tribute to Henson's work, Jim Henson: The Works, which was published in 1993.
Finch returned to making his own paintings and graphic art in 1984, and has had exhibitions in New York City and Los Angeles. He has also continued to write books on art and popular culture, including Twentieth Century Watercolors (1988), The Art of the Lion King (1994), Sotheby's Guide to Animation Art (1998), Disney's Winnie the Pooh: A Celebration of the Silly Old Bear (2000) and Pop Art: US/UK Connection (2001).
In 2007, Finch published Chuck Close: Work, and subsequently worked on a companion biography, Chuck Close: Life.
Sources
External links