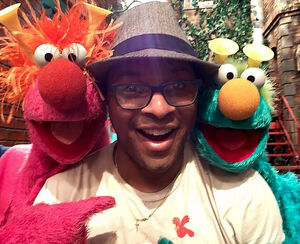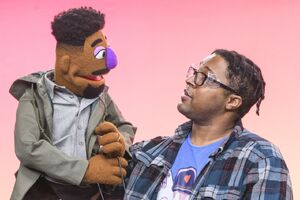 Christopher Thomas Hayes (b. February 5, 1983) is an actor and puppeteer who serves as a Muppet performer on Sesame Street, playing Hoots the Owl (since 2019) and Elijah.
Hayes participated in a Muppeteer workshop in 2014 and served as an uncredited assistant Muppet performer during season 46 of Sesame Street, including work on Episode 4607. He was a credited performer for the special Once Upon a Sesame Street Christmas, performed the Anything Muppet caricature of Craig Melvin on the October 21, 2019 edition of Today, and played a number of miscellenous characters in the second batch of My Sesame Street Friends episodes.
In 2019, Hayes was cast as the new performer of Hoots the Owl, performing him in the 50th anniversary special and the jazz concert, A Swingin' Sesame Street Celebration. He subsequently performed Hoots on the show in Episode 5102 and an interview for Jazz Night in America.
In 2021, Hayes started performing Elijah (the father of Elmo's friend, Wes) who was introduced in the "Coming Together" outreach initiative.
Other screen credits include minor roles on Teen Wolf and The Vampire Diaries.
External links