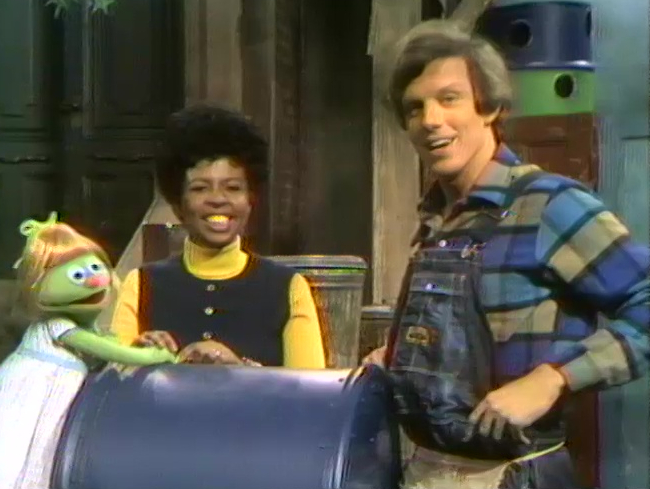 Christopher Lofton (1939-2002) was an actor often seen in soap operas who in the late sixties and early seventies was billed as Christopher Wines. He appeared on Sesame Street in Season 2 as John the carpenter in episodes 0159, 0220 and 0239.
Lofton's early career was spent in New York City including off-Broadway plays (1969's A Home Away From), TV (an episode of N.Y.P.D. with Jack Warden) and the occasional film (1969's Recess, 1974's Mad Mama's Girls). He was busiest on daytime soaps, however, playing Marty Dillman on The Guiding Light, originating Erica Kane's first husband Jeff Martin on All My Children, and stints on General Hospital, Days of Our Lives, and the later political series Capitol. In the later seventies, Lofton returned to using his birth surname and appeared in occasional Hollywood and prime-time projects, including Starsky & Hutch, The Colbys, and Remington Steele, and was often cast as senators in installments of the prime-time soap Bare Essence (with Ian McShane), Hart to Hart, and The Greatest American Hero. He was in the miniseries Robert Kennedy: His Life and Times as Kennedy's brother-in-law Steve Smith.
Lofton's last on-camera role was in a 1987 The Twilight Zone segment. He shifted to writing thereafter, scripting over half a dozen TV movies including Bump in the Night (with Christopher Reeve) and Enslavement: The True Story of Fanny Kemble (with Gerry Parkes). He co-wrote the screenplay for the 1997 film version of Robinson Crusoe starring Pierce Brosnan.
External links
Community content is available under
CC-BY-SA
unless otherwise noted.