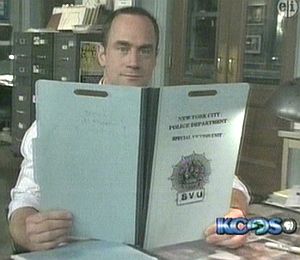 Christopher Meloni (b. 1961) is an actor best known for his role as Detective Elliot Stabler on Law & Order: Special Victims Unit. He also was a regular on HBO's prison drama Oz as Chris Keller from 1998 to 2003. He also appeared as eccentric cook Gene in the film Wet Hot American Summer along with Molly Shannon.
Meloni supplied the voice of Robbie Sinclair's best friend Spike on Dinosaurs. He has also appeared on Sesame Street, first in a brief cameo the celebrity version of "Dance Myself to Sleep" (debuting in The Street We Live On).
Meloni made a more substantial Sesame appearance in the "Word of the Day" segment in a 2007 episode. He appears in a version of his Law & Order workplace (peeking out from behind a police report), to discuss the word "mail." His own mail consists of a pickle, from the Pickle of the Month Club. The actor was also caricatured with a Muppet version of his L&O character in the 2006 sketch "Law and Order: Special Letters Unit."
On the November 13, 2008 broadcast of The Today Show, Meloni appeared in a dressing room, supposedly getting ready to appear in a promo for Law and Order: SVU. He found himself hijacked by Miss Piggy, billed as the star of Law and Order: E-I-E-I-O.
External links
Community content is available under
CC-BY-SA
unless otherwise noted.