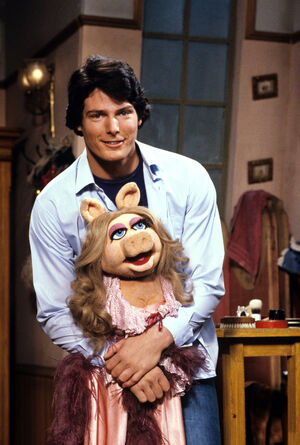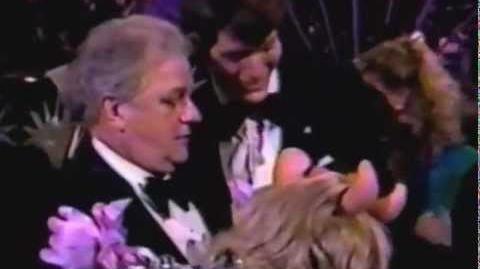 Christopher Reeve (1952-2004) was an actor best known for playing Superman in four films. His other film credits include Somewhere in Time (with William H. Macy), Deathtrap (with Michael Caine), Noises Off (with Caine, Carol Burnett and John Ritter) and a remake of Alfred Hitchcock's Rear Window which he also directed.
Reeve first became friends with Jim Henson and Frank Oz while filming Superman: The Movie outside of London, at a nearby studio. He occasionally supplied background voices and was invited to manipulate one of the Japanese Pole Vaulters in episode 221 of The Muppet Show.[1] His first onscreen appearance in a Muppet production was a cameo in the 1979 TV special The Muppets Go Hollywood, contending with Charles Durning for a chance to dance with Miss Piggy.
He guest starred on The Muppet Show in episode 418. In one memorable moment during its close, Reeve stuck up for Kermit against Miss Piggy. When she violently attempted to karate chop him, a hollowed echo was heard as Piggy bounced off as if striking hard metal while Reeve remained unscathed. An amazed Kermit quips, "He really is the Man of Steel!"
Reeve appeared on the cover of the Summer 1987 issue of Muppet Magazine. Dr. Bunsen Honeydew interviewed the star who posed for pictures in the issue, and met the namesake of his most famous acting role, Super Beaker.
On Sesame Street, Reeve appeared in a couple of inserts for Season 31. One of which was often repeated in later seasons, and featured reciting the alphabet with Ernie's Rubber Duckie. With the help of his son in Episode 3906, he also demonstrated the independent living skills he developed after acquiring a disability in 1995.
When Jim Henson was putting together ideas for The Great Muppet Caper, he considered Reeve for the role that would eventually become Nicky Holiday. "Some very good looking dashing leading man type to be Kermit's rival - Robt Redford? Chris Reeve? he's totally in love with Piggy - she treats him like dirt."[2]
Sources
External links