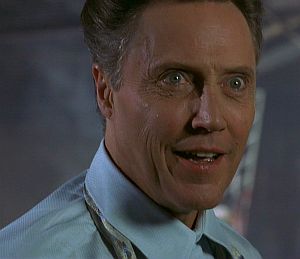 Christopher Walken (b. 1943) is an Academy Award-winning actor known for his often eccentric or villainous performances and distinct speech pattern, filled with pauses. He played the villain Reed Thimple in the Creature Shop-effects movie The Country Bears.
Walken's career began as a child actor on television and Broadway in the 1950s and 1960s, appearing in serious dramas but also gaining dance training and experience in musicals like High Spirits and Baker Street (with Fritz Weaver). He transitioned to film in the 1970s, and the pattern for his career was already set with parts in The Anderson Tapes (as jittery crook "The Kid") and Woody Allen's Annie Hall (as the heroine's odd brother who has urges to drive into oncoming cars). His role as disturbed Vietnam soldier Nick in The Deer Hunter (1978) garnered an Oscar for Best Supporting Actor. In the 1980s, he alternated between leading roles (psychic Johnny Smith in The Dead Zone, the journalist hero in Deadline, and a dancing, singing humanoid cat in Puss in Boots) and key supporting parts, notably as a stripping pimp in Pennies from Heaven (with Steve Martin and Bernadette Peters), the villainous Max Zorin fighting Roger Moore in A View to a Kill, and Matthew Broderick's sergeant in Biloxi Blues.
In the 1990s, Walken played a villain in another movie franchise, the icy Max Schreck in Batman Returns and added his unique presence to Quentin Tarantino's Pulp Fiction and Tim Burton's Sleepy Hollow (in a silent flashback role as the soon-to-be headless hessian), in addition to playing a romantic lead as stoic farmer Jacob Wittig opposite Glenn Close in three Hallmark Hall of Fame Sarah, Plain and Tall movies. He added more comedies to his resume, as Bobby Cahn in Wayne's World 2 and an obsessed exterminator in Mousehunt, and has continued in that vein almost exclusively, often spoofing his screen image in the likes of Balls of Fury, The Stepford Wives (again wed to Close), Kangaroo Jack, Joe Dirt, and The Wedding Crashers. A few genuinely dramatic roles crossed his paths, however, in Catch Me If You Can (as the protagonist's father) and the 2002 TV movie Julius Caesar (as Cato).
Walken has become a cult icon, not just through his film work, but through his appearance in Fat Boy Slim's 2001 "Weapon of Choice" music video (demonstrating his dancing abilities in a solo performance which he choreographed) and through multiple appearances as host of Saturday Night Live (notably playing the music producer who demands "more cowbell" on the track).
References
External links
Community content is available under
CC-BY-SA
unless otherwise noted.