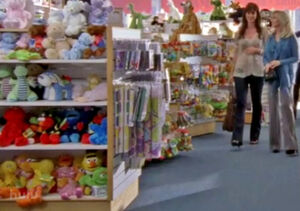 Chuck is a TV series created by Josh Schwartz and Chris Fedak that aired on NBC from 2007 to 2012. It follows a department store IT technician who receives a message encoded to his brain that he must keep away from foreign powers.
Mentions
On the third episode , the title character's best friend and sister discuss Chuck's future:
Morgan: You don't understand. He is a fragile little gelding. You know? Still trying to find his legs. The real world will crush him.
Ellie: Do you know what a gelding is?
Morgan: [scoff] It's that weird creature from The Dark Crystal. "Smells like gelding"... that guy.
In the third season episode "Chuck Versus the Mask," Chuck is looking for the antidote to a poison in one of several vases in a museum. He says to himself, "C'mon Chuck, one of these things is not like the others."
In "Chuck vs the Aisle of Terror" Ellie and her mom are shopping in a baby store where some Sesame Street dolls are on display.
Connections
Community content is available under
CC-BY-SA
unless otherwise noted.