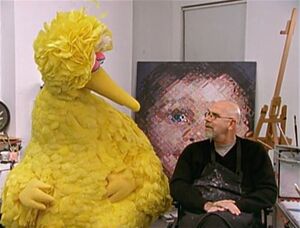 Chuck Close (1940 - 2021) was an American artist of contemporary portraiture famous for his photorealistic paintings of a number of modern-day artists, sculptors and writers, including composer Philip Glass.
Close recorded several segments in 2001 for Sesame Street Season 32, talking to Big Bird about making art.
In one segment, one of Close's self-portraits is analyzed by a group of kids in voice over as the camera pans out from the painting. (First: Episode 3968)
In another segment, he shows Big Bird his daughter Emma's favorite painting, a portrait of her. (First: Episode 3962)
A third segment features Close taking Big Bird through the steps he goes through in order to get ready to paint. Because he's disabled, he uses a special machine to maneuver his canvas into the right position. Then he chooses the right brush for the job, and finally, mixes paints to get the right color. Big Bird notes that the blues he goes through remind him of his friends Cookie Monster and Grover, and asks to have some paints himself. As Big Bird creates his self-portrait, he mimics Close's unique style of painting.
Christopher Finch, who has written three popular books on Jim Henson's work including Of Muppets and Men and Jim Henson: The Works, has written a 2007 book about Close's artwork, Chuck Close: Work. Finch is currently working on a companion biography, Chuck Close: Life.[1]
Sources
External links