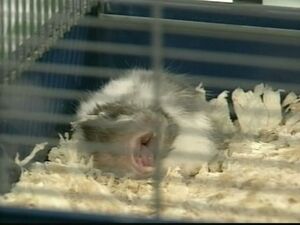 Chuckie Sue is Telly Monster's pet hamster, introduced in Season 30. Like Dorothy and Bernice the Pigeon, she appears on Sesame Street as a live animal rather than a Muppet.
The hamster's original name was Chuckie, until Telly discovered that his pet was pregnant in Episode 3860, following a playdate with Elizabeth's hamster, Herman. He decided that her full name was Chuckie Sue, although he continues to call her Chuckie. Chuckie Sue's kids are then named Moe, Larry, Curly (referencing The Three Stooges) & Chuckie.
When Chuckie Sue gave birth, Telly claims that that is a unique accomplishment proving the hamster's superiority during the "Greatest Pet in the World" contest; Zoe, however, claims that Rocco has fathered an entire family of pebbles.
Chuckie Sue apparently changed color in the "Pets" episode of Elmo's World. She had previously been a grayish-white; on Elmo's World, the hamster was brown.
She was later seen solo in episode 203 of The Not-Too-Late Show with Elmo, where Grover mistakes her for a pet named Spot that Cookie Monster has lost track of.
Prior to Chuckie Sue, Telly owned a hamster named Sweetie Pie, shown in Episode 3759.
Appearances