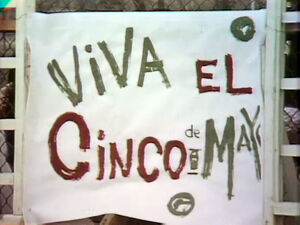 Cinco de Mayo, which as the literal translation suggests, occurs on the 5th of May, is a Mexican holiday. The day celebrates the victory of Mexican forces led by General Ignacio Zaragoza over the French occupational forces in the Battle of Puebla on May 5, 1862.
The holiday is widely celebrated amongst the Hispanic populace in the United States of America as well. In 1997, Sesame Street observed the holiday in Episode 3646, with Big Bird receiving a visit from his cousin Abelardo.
A film about Cinco de Mayo also appears in an early Sesame Street episode (EKA: Episode 0438), and Rizzo the Rat has cited the holiday as being just as good as Christmas (in "It's the Most Wonderful Time of the Year" on A Green and Red Christmas).