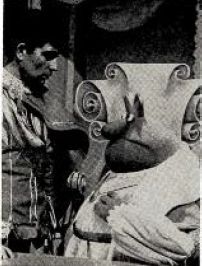 Cinderella was a 1965 half-hour Muppet TV pilot. Shot in October for ABC, the pilot was to have been the first in a serial of episodes with cliffhangers, each telling a part of the familiar Cinderella story. Writers Jon Stone and Tom Whedon had originally conceived the idea in 1964 as a Snow White series, utilizing Jim Henson's Muppets (thanks to their variety show appearances) and pitched it to CBS. When they passed, ABC showed interest but insisted the fairy tale be changed to Cinderella.[1]
Characters created for the pilot, including Splurge, were performed by Jim Henson, Frank Oz, Jerry Nelson, and George Latshaw.[1] Nelson played the Black Duke, with a puppet head covering the top half of his face, but the rest was his own body (similar to the musicians later used in Hey Cinderella!)[2] The human actors, consisting of various New York stage and TV veterans, included Jill O'Hara (sister of Jenny O'Hara) as Cinderella, plus Will Mackenzie (as Prince Charming), Elaine Hyman, and Mary Louise Wilson.[2] The other human characters were the Fairy Godmother and the Queen, while other Muppets included the King, the Prime Minister, and the stepsisters. As the most ambitious use of live actors with Muppets at the time, the pilot was produced in collaboration with Albatross Productions Inc.[3]
Bob Schwarz (who later worked on Sesame Street) directed. Joe Raposo composed the music, making this his first collaboration with Henson and Stone. The network did not pick the project up as a series, and the pilot never aired.
The concept would later be restructured into the television special Hey Cinderella! (filmed in October 1968 and aired on ABC over a year later) which spawned a short series of "Tales from Muppetland" specials. Much of the original alumni (including Henson, Stone, and Raposo) came back to work on the special, and reunited again shortly after as Sesame Street began production. Several bits of dialogue were re-used for the special, particularly the "Bring a present for the King" exchange. The special's lone musical number, "If I Could Go Dancing," is re-used in that production as well.
For many years, footage of the original pilot was believed to have been lost until the sons of Robert Lawrence (whose RLP Canada studio provided production facilities for Hey Cinderella!) found a 16mm film copy in the summer of 2013 and donated it to The Jim Henson Company Archives and The Jim Henson Legacy, as well as the Paley Center for Media.[2]
Character sketches
Designs by Jim Henson in 1965.[1]
See also
Sources
↑ "'Cinderella' pilot made." Broadcasting magazine. Nov. 08, 1965. p. 52.
Community content is available under
CC-BY-SA
unless otherwise noted.