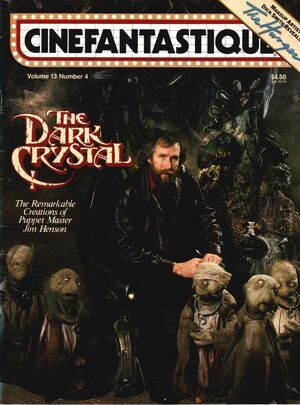 Cinefantastique is a horror, fantasy and science fiction film magazine. The magazine was known for its slick paper stock and use of full color interior film stills. It was originally started as a mimeographed fanzine in 1967. Then in 1970, it was relaunched as a offset quarterly glossy by Frederick S. Clarke. In 2007, Cinefantastique relaunched as a webzine and was purchased by Spherewerx in 2009.
Jim Henson and the Podlings appeared on the front cover of the April/May 1983 issue to promote the release of The Dark Crystal, with an extensive article on the film inside. It also features another article entitled "Of Precocious Pigs, Singing Cabbages and a Little Green Frog Named Kermit."
The March 1996 issue features an article on Muppet Treasure Island. The August 1999 issue features an interview with Brian Henson as he talks about the release and production of Muppets from Space (under the original title Muppets in Space). The October 1999 issue features an article on The Adventures of Elmo in Grouchland.
The special Comic-Con 2006 preview issue features an in-depth look of the unfinished movie Power of the Dark Crystal.
References
External links