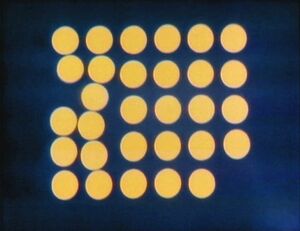 Clark Gesner (1938–2002) was a songwriter and playwright best known for writing the book, music, and lyrics of the musical You're a Good Man Charlie Brown. Gesner was involved in early development of Sesame Street, even writing the prospectus for the Children's Television Workshop in 1968.[1]
Gesner produced film and animated inserts for the test pilots and first season of the show, notably the number bridges featuring dots and the "There Once Was a Hand" segments (labeled "Features," "Wall," and "Strong" in ASCAP registration). The scores of these segments were also registered in Gesner's name (although according to Sesame Street: A Celebration - 40 Years of Life on the Street, Joe Raposo actually scored). His own song "Happiness Is," from the Charlie Brown musical, was also performed in early episodes. (First: Episode 0007)
Gesner's other major contribution to the early Sesame Street never made it to air. He produced several studio skits, which took place in a futuristic, white space, with two children as the main characters. This idea was dropped in favor of using an actual street.[2] Gesner would move on to The Electric Company as a song writer; his "Sign Song," written in 1972, was later performed by Big Bird on the 1977 Sesame album Signs! Gesner was one of several writers who contributed to the 1974 special Out to Lunch, with the Sesame Muppets and the Electric Company cast.
Gesner also wrote music and scripts for Captain Kangaroo and Bob Keeshan's other children's series, Mister Mayor, and for the topical satire series That Was the Week That Was. He wrote another Broadway musical, The Utter Glory of Morrissey Hall, which opened and closed on the same night in 1979.
Sources
↑ Lesser, Gerald. Children and Television: Lessons from Sesame Street. p. vii. Random House, 1974.
↑ Morrow, Robert W. Sesame Street and the Reform of Children's Television. 94-95. Baltimore: John Hopkins University Press, 2006.
External links
Community content is available under
CC-BY-SA
unless otherwise noted.