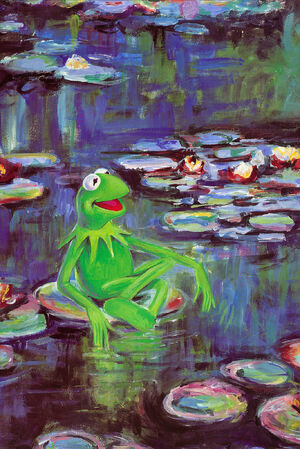 Claude Monet (1840 - 1926) was, like his contemporary Pierre-Auguste Renoir, a French artist of the Impressionist style.
References
Dialogue in the soundtrack version of "Happiness Hotel" includes Zoot telling Kermit that Animal is upset over missing the Monet exhibit at the National Gallery (the film version features an altered exchange).
Later in the episode, during the "Art Is in Your Heart" montage, Baby Animal, Baby Scooter, Baby Fozzie, and Baby Kermit pop up in Monet's 1872 piece Argenteuil, and Baby Gonzo takes a dive in the water in Ships Riding on the Seine at Rouen. The montage ends with the Babies skipping through The Artist's Garden at Vétheuil.