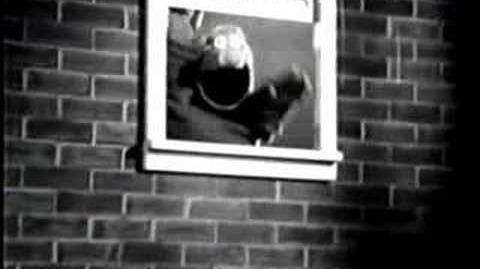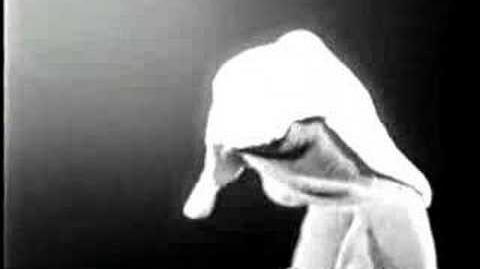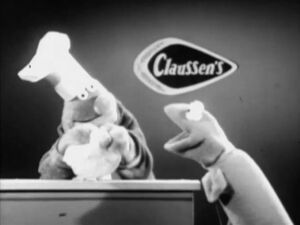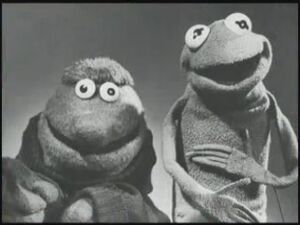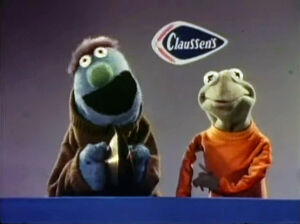 Mack and Kermit appeared in ads for Claussen's Bakery. 24 eight-second ads were produced in 1964 and 1965, and aired from 1964 to 1966. Structurally, the ads are very similar to the Wilkins Coffee ads (1957-1961), and some of them are direct remakes of Wilkins ads. Some of these ads were also remade for McGarry's Sausage.
In one of the ads ("Want a Bite"), Kermit approaches Mack, who's munching on a sandwich:
Kermit: "Whatcha eating?"
Mack: "A sandwich made with Claussen's Bread! Wanna bite?"
Kermit: "Sure!"
Mack lunges over, and chomps on Kermit's shoulder with a horrifying crunch. Kermit yelps.
Kermit: "Aaaaaa! He's a sharp salesman."
As the commercial ends, Kermit frowns and rubs his shoulder as Mack happily returns to his sandwich.
In other ads, Mack throws bread dough in Kermit's face, blows him up, and lets him drop from a high window.
List of titles
These are the official commercial titles.
Blow Up
Brand X
Cheep Cheep
Cleaver
Everybody Likes Claussen's
Exploding Brand X
Foot Down
Hitting
House Is Not a Home
How Shocking
Just Kidding
Kneading
Monster
Name Contest #1
Nowhere
Positive
Shall We Try Again
Steamroller
Symbolic
Tree
Want a Bite
Window
See also
Community content is available under
CC-BY-SA
unless otherwise noted.