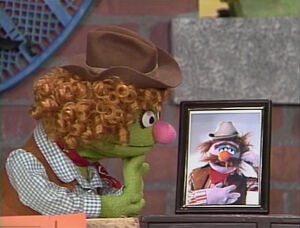 Clementine is Forgetful Jones' long-suffering girlfriend. She gets frustrated about Forgetful's bad memory, and tries to help him remember. Her name is a reference to the song "Oh My Darling, Clementine."
She appeared on Sesame Street from Season 12 to Season 22. Her main function was to help Forgetful remember things, and while he appeared on the show without her very frequently, she was seldom seen without him. Her several solo appearances include "My Triangle Home," a song about the house she grew up in, and a segment where she runs the Double Bar "R" Ranch and recruits Gladys the Cow to take on some of the responsibilities. (First: Episode 2225) She also takes on a central role in a sketch where Bad Bart comes to town and she warns the folks in the saloon about it, while Forgetful is seen playing the piano and has no lines. (First: Episode 1940)
Clementine also appeared in the wedding finale of The Muppets Take Manhattan.
Songs
Episodic appearances
Book appearances