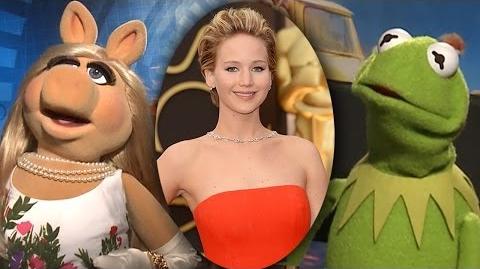 Clevver News is self-described as a "youth-focused website and resource to find the hottest young Hollywood and teen celebrity" information.
On March 20, 2014, their YouTube channel published a video from the Muppets Most Wanted press junket. Interviewer Erin Robinson conducted a word association game with Kermit the Frog, Miss Piggy, Constantine, Ricky Gervais, Tina Fey, and Ty Burrell. Some of their answers included:
Moles
Tina Fey: Constantine
Ty Burrell: deceptive
Kermit: Constantine
Piggy: furry animals
Jared Leto's hair
Tina Fey: hombre
Ty Burrell: beautiful
Constantine: applesauce
Tina Fey: one of the greatest non-existant singers of all time
Ricky Gervais: she sounds like John Travolta
Piggy: a doobie-doo
JLaw
Tina Fey: I love her, Jennifer Lawrence, yeah?
Ricky Gervais: the singer, "I'm still Jenny from the block."
Constantine: From The Hunger Games. There are two of them. There's a J-Lo and JLaw.
Kermit: JLaw?
Piggy: J-Lo
Piggy and Kermit: Jell-O!
Piggy: lovers and dreamers
Tina Fey: bless their hearts; it's gonna be okay
Ty Burrell: young
Ricky Gervais: atheists
Selfies
Constantine: this is hard game for frog, you make my head hurt here
Tina Fey: overtaking the world
Totes
Ty Burrell: carry-ons and also totally
Tina Fey: the 1970s rainbow product
Kermit: toads?
Piggy: m'goats
Gingers