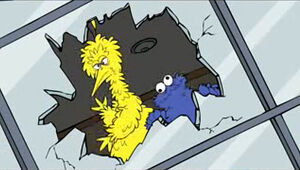 Click and Clack's As the Wrench Turns is an animated series which aired on PBS in 2008. It starred Tom and Ray Magliozzi as animated versions of their Click and Clack personas from NPR's Car Talk and featured numerous jokes about public television and radio.
Muppet Mentions
In the episode "Campaign," Sal gambles away Click and Clack's fundraising money on a bet on whether or not the number of the day on Sesame Street will be even. After she discovers it is even (4), she angrily comments, "The Count is killing me this month!"
In the episode "Abercrombie & Wrench," after Click and Clack frustrate Jim Lahair during an interview, Big Bird and Cookie Monster toss the brothers through a window in the PBS building.
Community content is available under
CC-BY-SA
unless otherwise noted.