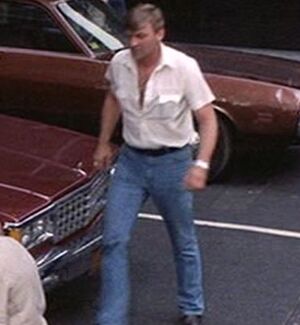 Cliff Cudney is a stunt man, stunt coordinator, and actor specializing in driving scenes. He was credited as a stunt driver in The Muppets Take Manhattan, for the scene where Kermit is hit by a cab. Cudney can be seen as a station wagon driver who gets out to check on Kermit.
Cudney's earliest acting roles included bit parts on Dark Shadows (in four episodes, three as a zombie), while his first major stunt work was on The French Connection, as driving double for Gene Hackman in the chase. Stunt work followed in Shaft's Big Score, The Anderson Tapes, and Cops and Robbers (also acting as one of the perps), as well as a speaking part in the 1970s Uniroyal Tire commercials (as Al, paired with Uni and Roy). He was stunt coordinator for the Friday the 13th Part 2 and appeared on-camera as tow truck driver Max.
Other stunt coordinator credits include So Fine (with Jack Warden), Seize the Day (with Robin Williams), Night Shift (with Henry Winkler), Alone in the Dark, Sleepaway Camp, Unfaithfully Yours (with Dudley Moore), Lord of Illusions, Boogie Nights, Hard Eight, and October Sky, as well as a PBS TV version of The Adventures of Huckleberry Finn. As an actor, usually playing drivers, he appeared in Malcolm X (as a limo driver), Nighthawks (with Sylvester Stallone), and Sergio Leone's Once Upon a Time in America (as a mounted policeman).
External links