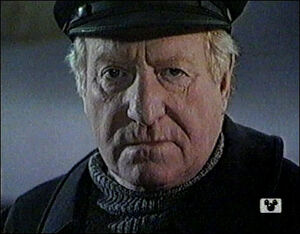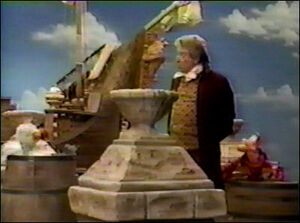 Clive Revill (b. 1930) is a New Zealand-born character actor, usually cast as the stock Hollywood version of an Englishman. He played Grimsby in the two pilot episodes for Little Mermaid's Island in 1990. In 1996, he hosted The Muppets Take to the High Seas: The Making of Muppet Treasure Island.
Revill's long career has encompassed stage, screen, television, radio, and animation and video game voices. A veteran Shakespearean, Revill studied with the Old Vic and performed in Hamlet and Julius Caesar, among others. In Broadway, musicals, he played Sam Weller in Mr. Pickwick and Fagin in Oliver! and also played lead roles in Gilbert and Sullivan operettas.
Revill's first film lead was as the title character in The Headless Ghost (1959), though his best known screen assignment may be as the voice of Emperor Palpatine in The Empire Strikes Back (though the more recent DVD versions redubbed his dialogue with Ian McDiarmid, who assumed the role in the subsequent films). Other movies include 1968's papal drama The Shoes of the Fisherman, One of Our Dinosaurs as Missing (as the Chinese assistant to Peter Ustinov), The Legend of Hell House, Billy Wilder's The Private Life of Sherlock Holmes (with Robert Stephens) and Avanti!, and Mel Brooks' Robin Hood: Men in Tights and Dracula: Dead and Loving It. He worked frequently with producer/director Menahem Golan (of Golan-Globus and later Cannon Films), particularly in the Cannon Movie Tales fairytale series of the 1980s (playing kings in The Frog Prince and Rumpelstiltskin and Sid Caesar's prime minister in The Emperor's New Clothes), as well as Escape to the Sun and Mack the Knife (opposite Raul Julia).
Revill's many TV credits include guest spots on The New Avengers, Columbo, Murder, She Wrote, Star Trek: The Next Generation (as Guy of Gisborne), Lois & Clark: The New Adventures of Superman (as a sorcerer), The Love Boat, Newhart, The Closer (as a murdered butler), and Remington Steele, plus a rare series regular role on the 1983 fantasy series Wizards & Warriors (as evil wizard Vector). In animation, he was heard on Transformers (as Kickback), Batman: The Animated Series (as Alfred in select episodes), The Snorks (Uncle Galeo), Alvin and the Chipmunks, DuckTales, Tiny Toon Adventures (as William Shakespeare), Pinky & the Brain, Freakazoid, and most recently a 2011 episode of Secret Mountain Fort Awesome. Revill continued his Star Wars association in several video games, including Star Wars: X-Wing (General Dodonna) and Star Wars: The Old Republic, as well as voicing Thorin Oakenshield in The Hobbit video game and Doctor Doom in Marvel Ultimate Alliance.
External links
Community content is available under
CC-BY-SA
unless otherwise noted.