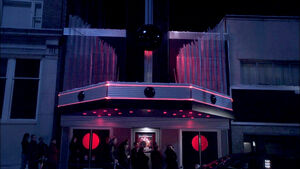 Club Dot is a decadent night club, a renovation of The Muppet Theatre building, featured in It's a Very Merry Muppet Christmas Movie.
In the "real" Muppet universe, the club never leaves the planning stages, existing only as a scale model in Rachel Bitterman's office (Pepe the King Prawn is left wondering how people will get through the tiny little door; after Rachel shoves Pepe head-first through the model doors he screams "I think your Club Dot is gonna need bigger doors, okay!").
In the alternate universe in which Kermit the Frog was never born, the club has taken the place of the Muppet Theater and employs several members of the Muppets gang, including Dr. Bunsen Honeydew as the doorman, Beaker as the bouncer, Johnny Fiama as the bartender, Robin as the barback, and Sal as the waiter. It is unclear whether Scooter is employed to dance in a cage or does it for free.