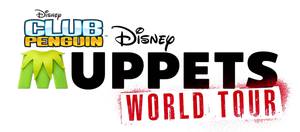 Club Penguin was an online game published by Disney Interactive Studios. Launched in 2005, players assume cartoon penguin avatars in a multiplayer environment. Disney acquired the online game on August 1, 2007. On March 30, 2017, it was discontinued, and was replaced by a successor titled Club Penguin Island (which also closed, and discontinued the following year in 2018).
The game featured "Takeovers" in which a theme or franchise hosts a party for a limited period of time (commonly two weeks). Takeovers have included Marvel, Monsters University, and Star Wars. In 2014, to coincide with the release of Muppets Most Wanted, the Muppets were featured in a Takeover event as announced on the game's official YouTube channel.
In the announcement video, Kermit the Frog, Miss Piggy and Scooter are holding auditions. On stage, a Club Penguin ninja performs a fighting move. Kermit says, "Hey, Piggy, you know, maybe you could give up singing and become a ninja!" Taking offense, Miss Piggy karate chops the frog to the floor. Other clips followed. The Takeover "party" ran from March 20 until April 1, 2014 (however it is extended for one day).
Players were able to dress up in costumes inspired by the Muppets, visit nine country themed locations, and perform onstage at The Muppet Theatre.
Screenshots
External links