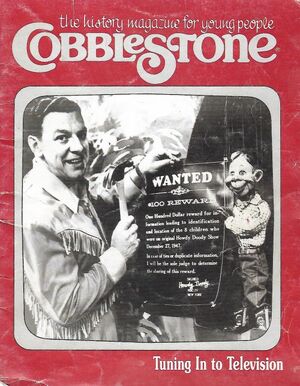 Cobblestone is a history magazine aimed at children in the elementary to middle school/junior high range.
The October 1989 issue, which had the history of television as its theme, featured "Television's Muppet Master," an interview with Jim Henson, conducted by Harry Gardiner.
The interview discussed then-new and upcoming projects like The Ghost of Faffner Hall and The Witches, as well as the origins of Kermit the Frog and Jim Henson's experience in television in general. The magazine thanked Craig Shemin at Jim Henson Productions for help with the photos.