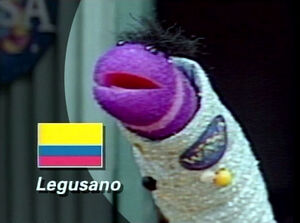 Colombia is a South American country, located in the northwest corner. Colonized in the 15th century by the Spanish, the capital city is Bogotá (not to be confused with Bogata, Romania). The country is known for its coffee exports and soccer team.
Notable Colombian-born people include Sofía Vergara, singer Juanes, and John Leguizamo. There is also, of course, Legusano of the Wiggleprise, one of the team of WASA worms who went into space in 1998.
On Plaza Sésamo, the Latin American co-production of Sesame Street, plaza scenes were filmed in Colombia for the first time in 2013. The country was also featured in a "We Are Kids from Far and Wide" segment (originally made for Sesame Street but aired on Plaza Sésamo), in a "Lola Aventuras" segment, and various live-action and animated inserts. In 2012, a series of public service announcements, "Monstruos en Red," featuring the Plaza Muppets were produced by Colombia's Ministry of Information and Communication Technology (MinTIC).