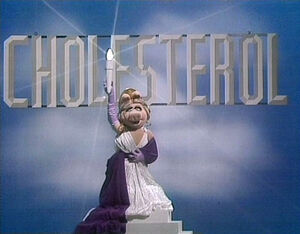 Columbia Pictures is a movie distributor. In 1995, it collaborated with Jim Henson Productions to form the short-lived Jim Henson Pictures.
The studio became famous for its mascot of a woman wearing a draped flag and carrying a torch. This was spoofed by Miss Piggy in The Muppets Go to the Movies.
Columbia has a sister distributor called TriStar that has also distributed Muppet-related titles. Both make up the bulk of Sony Pictures Entertainment and are owned by the Sony Corporation of America.
From 1993 to 1996, Lisa Henson was President of Columbia Pictures.
Henson Releases
See also