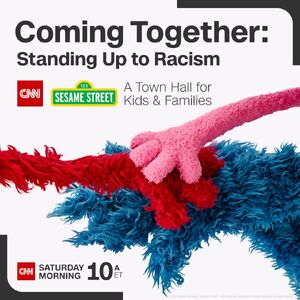 Coming Together: Standing Up to Racism is a CNN town hall special hosted by Van Jones and Erica Hill, along with Sesame Street's Big Bird. The special, which focused on racism, aired June 6, 2020, on CNN, CNN International, CNN en Español and CNN.com. Other Sesame Street characters, including Elmo, Louie, Abby Cadabby, Rosita, and Gabrielle, appeared along with experts answering questions submitted by families. Sonia Manzano and Roscoe Orman, performers of Maria and Gordon, respectively, also appeared. Other participants were Atlanta Mayor Keisha Lance Bottoms; Dr. Nia Heard-Garris, Minority Health, Equity and Inclusion Chair at American Academy of Pediatrics; Beverly Daniel Tatum, Ph.D., psychologist; Jennifer Harvey, Ph.D., author, Raising White Kids: Bringing up Children in a Racially Unjust America; Keedron Bryant, gospel singer; Charles Ramsey, former Philadelphia Police Commissioner; and Jeanette Betancourt, Senior Vice President, U.S. Social Impact, at Sesame Workshop.
The special was originally scheduled for May 30, 2020, and was to be a second installment of The ABCs of COVID-19 with a focus on the COVID-19 pandemic. However the special was preempted by other coverage of the killing of George Floyd and the worldwide protests that followed. The special was delayed until June 6; it was later announced that the town hall would refocus on "racism, the recent nationwide protests, embracing diversity and being more empathetic and understanding."
The program marked the start of Sesame Workshop's racial justice and literacy initiative Coming Together, and was followed by the HBO Max special The Power of We.
Note
Abby mentions the events of Episode 4265, when she discusses her experiences of supporting someone who had experienced racism.
External links
See also