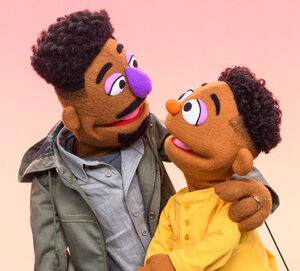 Coming Together is Sesame Workshop's racial justice initiative, which provides resources to help build a child's racial literacy skills.
The initiative was launched in the summer of 2020, beginning with the CNN/Sesame Street town hall special, Coming Together: Standing Up to Racism. It aired on June 6 in response to the murder of George Floyd and the ensuing protests worldwide. A segment in the special features Louie explaining to Elmo the concepts of protesting and racism.
Another Sesame Street special, The Power of We, was released on HBO Max in October 2020. The special stars cousins Gabrielle and Tamir, who teach Elmo and Abby Cadabby how they can be upstanders to racism. This was followed by a series of online videos about The Power of We Club.
On March 23, 2021, the initiative premiered its bilingual resource package, titled "The ABC's of Racial Literacy," on the Sesame Street in Communities website. It also introduced two Muppet characters, five-year-old Wes and his father Elijah, who appear in online videos. A music album was later released as part of the initiative, and its racial justice curriculum will extend to the Sesame Street series in Seasons 52 and 53.
External links